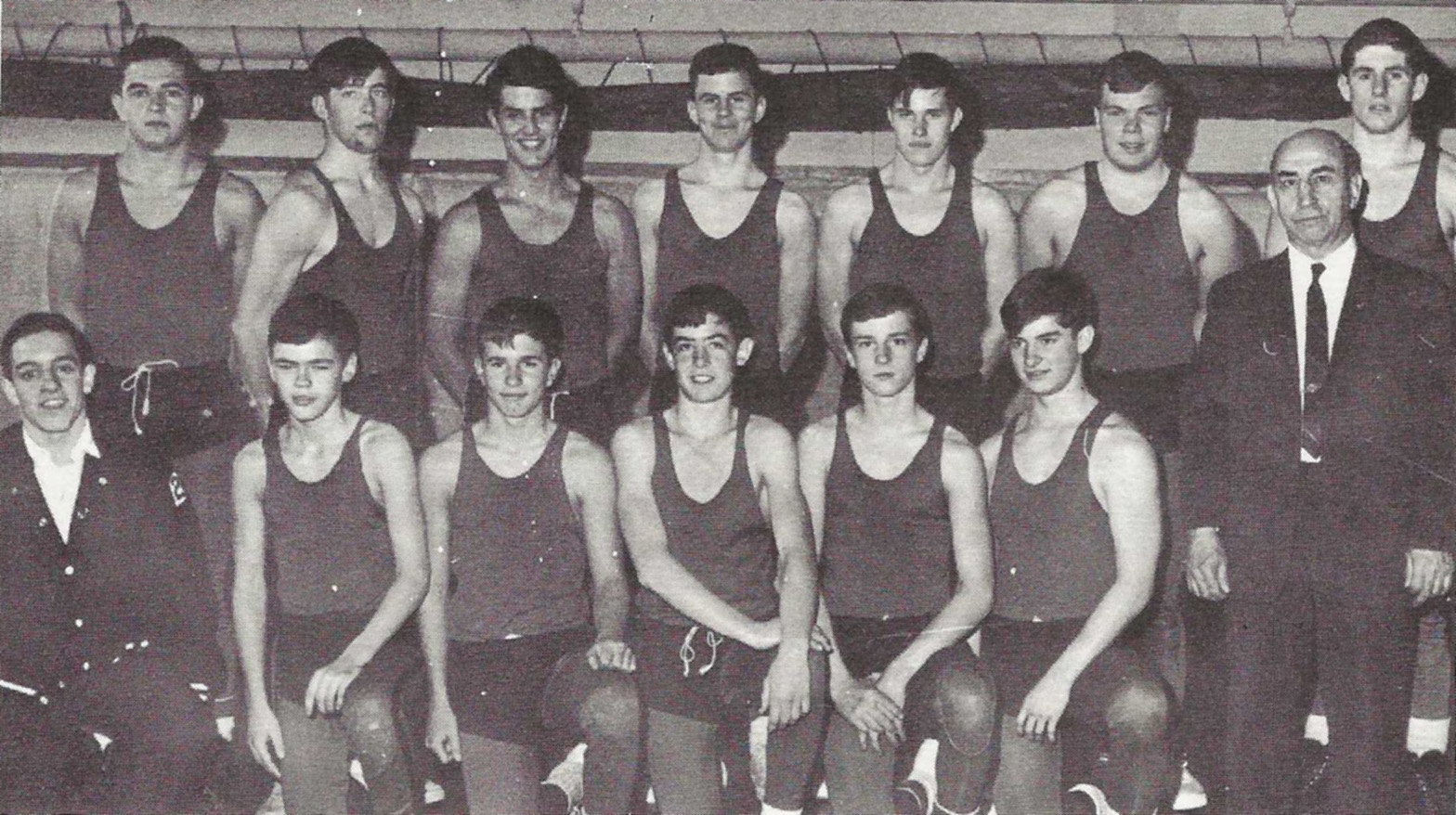 1965 Portsmouth Priory Wrestling Team
Kneeling: Keefe T., McShane, Hoeffel, Frawley, Camargo, Minor T., Rives W. Standing: Henerey, Wills A., Skae, Scotti C., McCormick, Fisher, Maloney A., Solas, Mr. Lifrack.
It has been a common characteristic of the wrestling squads of the past that returning lettermen are few in number, and as a result the early part of the season is spent in educating the new-comers. This year's team centered around the standard quota of four returning lettermen: Frawley, McShane, Keefe and Fisher. The new members, however, proved an exception to the rule which holds inexperience analogous to incompetence. Sands, Silva, Kellogg, and Bowes compiled records which were comparable to those of the veterans. "Bulldog" McDonough, Hill and Minor rounded off the team with their valuable experience which had formerly missed the varsity limelight.
The practices turned out to be a conglomeration of light exercises, hard wrestling and passable jokes, often spiced by an exhibition on the part of "the old sage of the mat" who, in applying one of his more brutal holds to a young member of the team, would ejaculate "See how simple it is, boys!"
The team is grateful to Fr. Bede for his cooperation and support during the season and on allowing Sands, Frawley, McShane, Hill and Fisher to enter the competion of the New England Interscholastic Championship. Sincere thanks go to Coach Lifrak whose sharp reproofs turned the tide in many bouts and whose excellent coaching was responsible for the team's success.