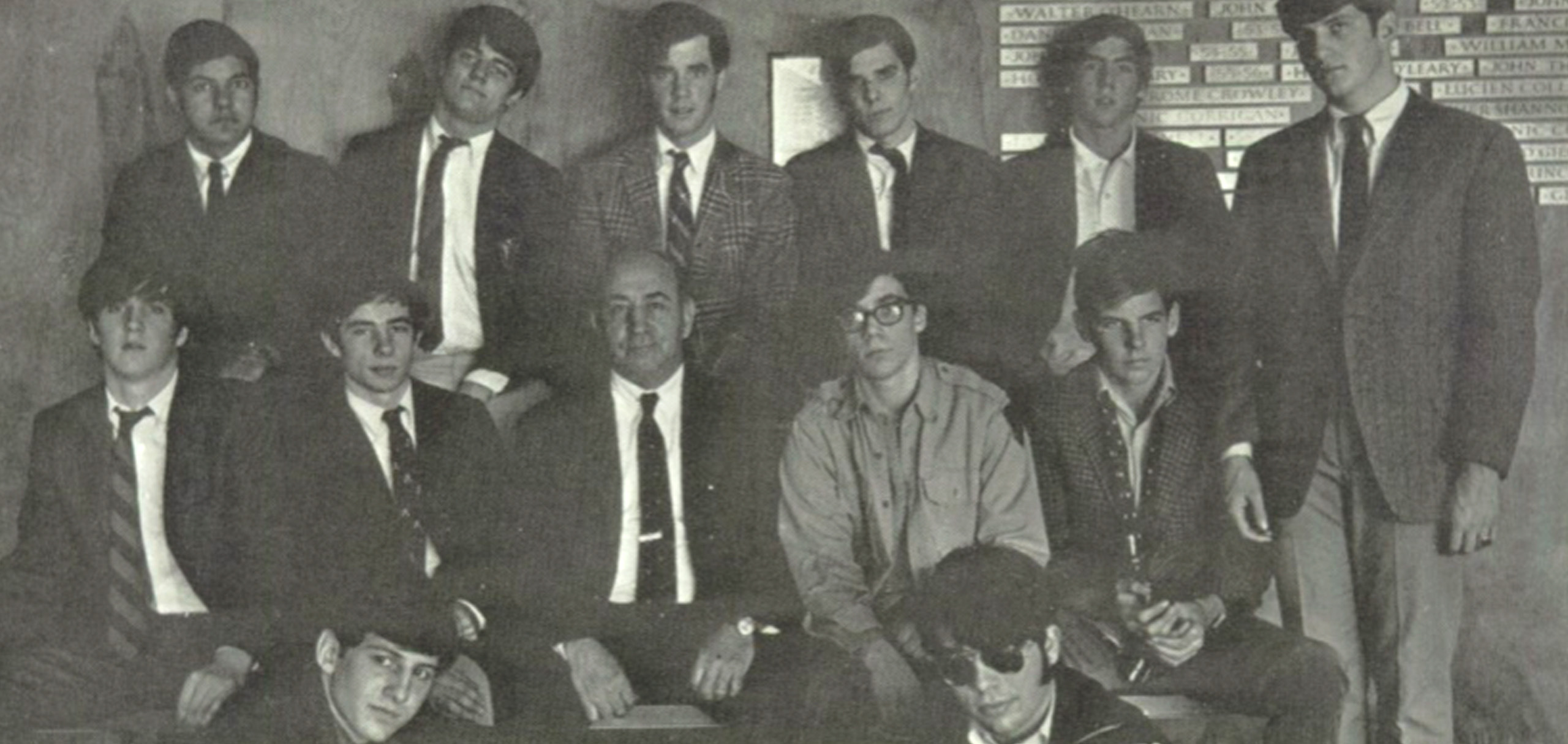 1969 Portsmouth Priory Wrestling Team
Back Row: Wagner, Kresock, Reynolds, Fitzgerald I., Keefe M., Spears
Front Row: Quinn, Anderton, Mr. Lifrak (Coach), Unkovic, McShane, Mariani (Captain), Schaible.
During the first three matches, Pomfret, P. C. D., and Tabor, differences between the returning lettermen and the new grapplers were more than evident. It seemed that only the veterans led by Captain Mariani were able to wear the laurels of victory. Among these were Bill Reynolds, who, in the 167-pound class, showed such mastery of the moves the was elected the 1970 captain; 145-pound Joe Spears who to the loss of the '70 team, will have to find a collegiate mat upon which to lay his opponents' shoulders; Colin Kresock, who. in the 177-pound weight class will long be remembered for his remarkable performances: Chris Quinn, who, at 115 pounds, had an insatiable appetite for victory; and the 121-pound Mark Anderton, who performed brilliantly under the most adverse conditions.
It was during the fourth match, against Providence Central, that the faith Coach Lifrak placed in the new grapplers paid off. As the team clinched its first victory, unknowns such as 127-pound Bryan McShane, 133-pound Henry Cummings, 152-pound Matt Keels, and 160-pound Muldoon Fitzgerald finally emerged from the depths of defeat. Now that nearly all of the team had tasted Victory the next two matches against Tabor and Moses Brown rested on the shoulders of heavyweight Steve Wagner who bore his burden with dignity. The match against Marianapolis, however, was disappointing, but the following week, the angry grapplers bounced back unexpectedly and crushed St. George's. Thus after a disappointing beginning with three losses,  the 1969 Priory wrestlers rose to a finish the season 4-4.