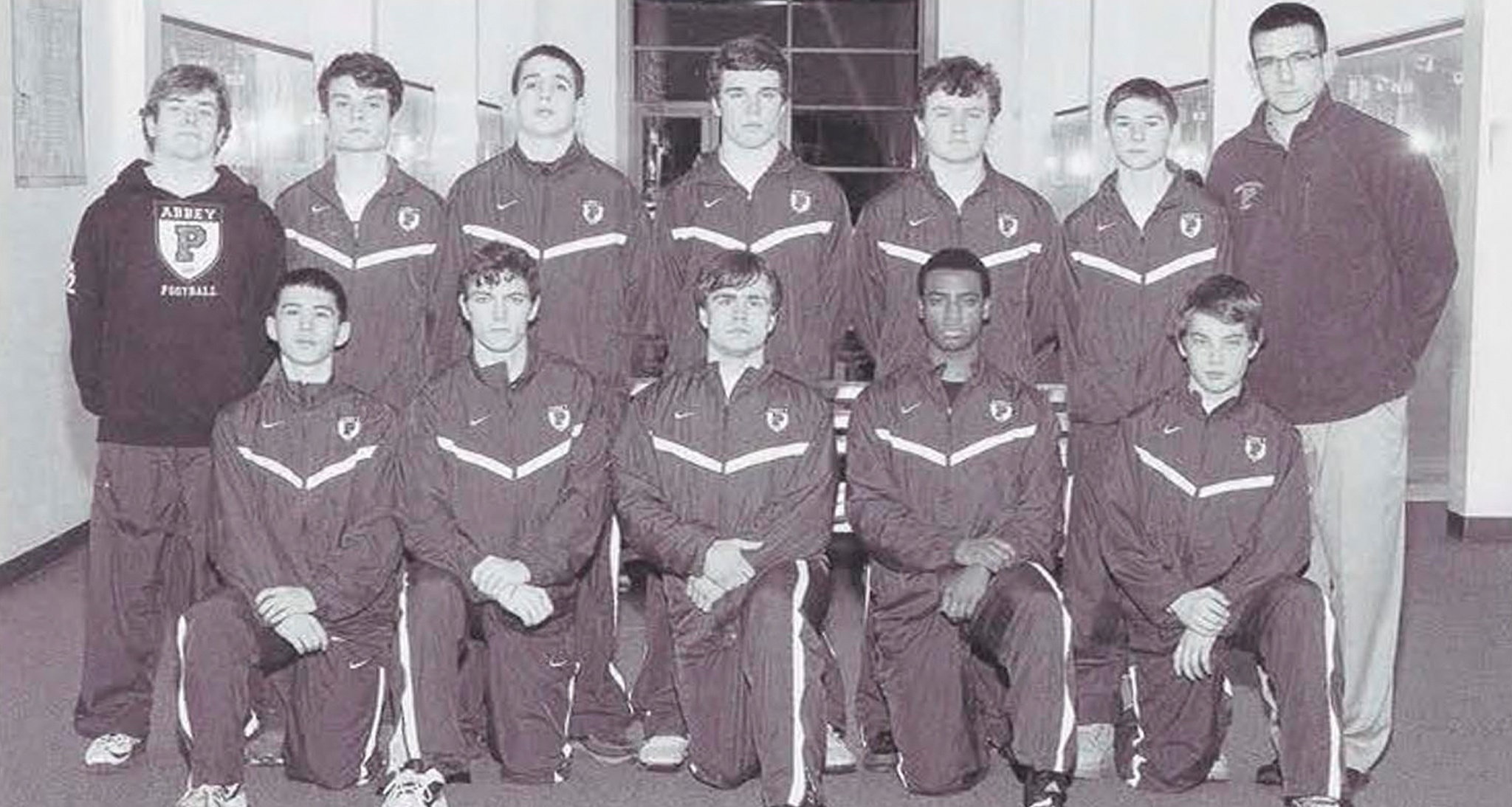 2012-2013 Portsmouth Abbey Wrestling Team
Front (L-R) Morrissey, Ruvane, Sucsy, Matra, E. Wilson
Back (L-R) Locke, Medley, Mercier, B. Wilson, Winters. Rooney, Coach Card
Coaches Award: Rasaanh Matra '13
MIP: Rob Sucsy'13
Captain-Elect: Patrick Ruvane '14
EIL Record: 2-9
EIL Tournament CANCELED SNOW
Robert Suchy-170 3rd-New England Preps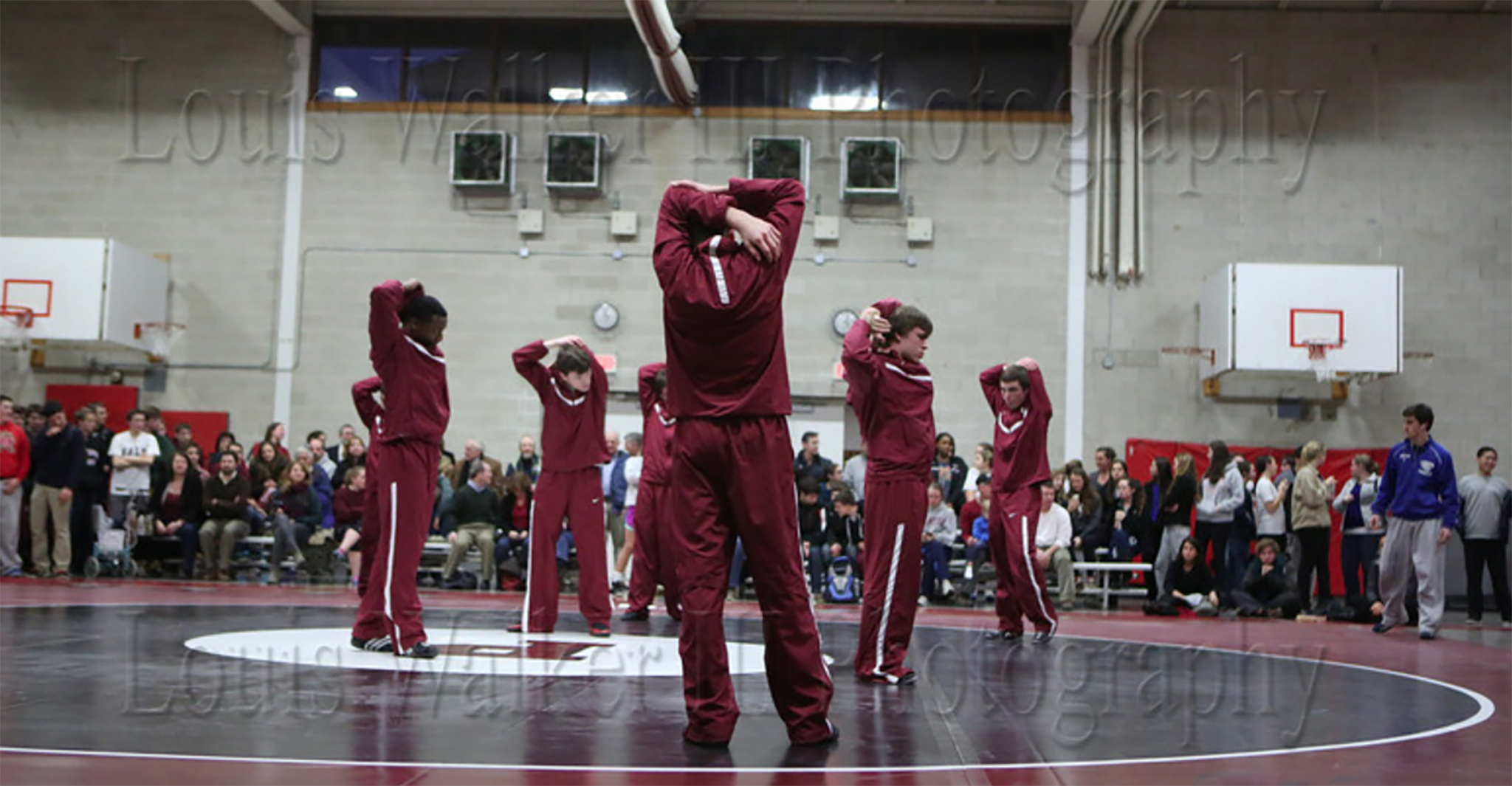 PORTSMOUTH, R.I., January 18, 2013 –The Portsmouth Abbey School Wrestling Team hosted Lexington Christian Academy today in its first home wrestling match of the season and the first wrestling match that has taken place as a varsity sport at the Abbey in 19 years.
With an overflow crowd of students, parents, and alumni cheering on the Ravens, the Abbey fared well, with three wrestlers – Nick Medley '13, Rasaanh Matra '13, and Ben Wilson '15 – pinning their opponents to win hard-fought matches.  The Ravens came up short overall, 48-30, and are now 2-5 on the season, although, judging from the delighted spectators, the final outcome of Friday's match was secondary to the thrill of having wrestling back at the School.
Portsmouth Abbey has a rich and storied history in wrestling. The Abbey had a wrestling team from 1955 until 1994 when it was dropped because of low participation numbers. During that time, the Ravens won league championships in 1977, 1978, and 1986. In 1990, the Abbey also hosted the Graves-Kelsey Tournament, which brings together all of the region's prep school wrestling programs and is the signature wrestling tournament in New England.
"I am excited that we have brought wrestling back into our athletic program," said Abbey Athletic Director Al Brown. "It is providing our student-athletes with an additional competitive sport opportunity. Our league, the EIL, has a well-established wrestling league that will provide great competition for our team.
"I was very happy with the turnout for wrestling," continued Coach Brown. Fifteen boys are participating in wrestling and have made a lot of progress under the guidance of Coach Adam Card. The team is wrestling a full varsity schedule, with 11 matches and the post-season EIL Tournament. They have had a good start. This is a great accomplishment."
Coach Card, who was a competitive wrestler in college and has also coached the sport, is also pleased with the interest level and competitive spirit of the boys who have joined the team. 
"Coming into this wrestling season, I did not know what to expect," he said. "I didn't really know how many kids were going to come out for the team, I didn't know how many of those kids (if any) would have had legitimate previous wrestling experience, and I didn't know if the athletes that came out for the team would have the fortitude to put in the hard work necessary for success in this sport.
"Because Al Brown (athletic director) and Kate Reardon (assistant athletic director) did such a fantastic job in setting up the program and generating interest in the student body, we have a solid team. I can't stress how important the number of athletes in a team is for wrestling, and I have competed and coached on well-established teams with less than we have this year. Thanks to the great leadership from our captains, Rasaanh Matra '13, Robert Sucsy '13, and Patrick Ruvane '14 (whose father, John '81, wrestled for Portsmouth), so far our wrestlers have been strong enough to put in the necessary work, and it shows in the way they compete. I have coached wrestling for several years, and I have never seen a group of kids who have picked up this sport so quickly.
"I am most looking forward to watching my athletes peak at the right time this season and make a push into the post-season tournaments. Beyond this season, I am looking forward to watching my younger wrestlers develop and to see how they compete in their upperclassmen years."