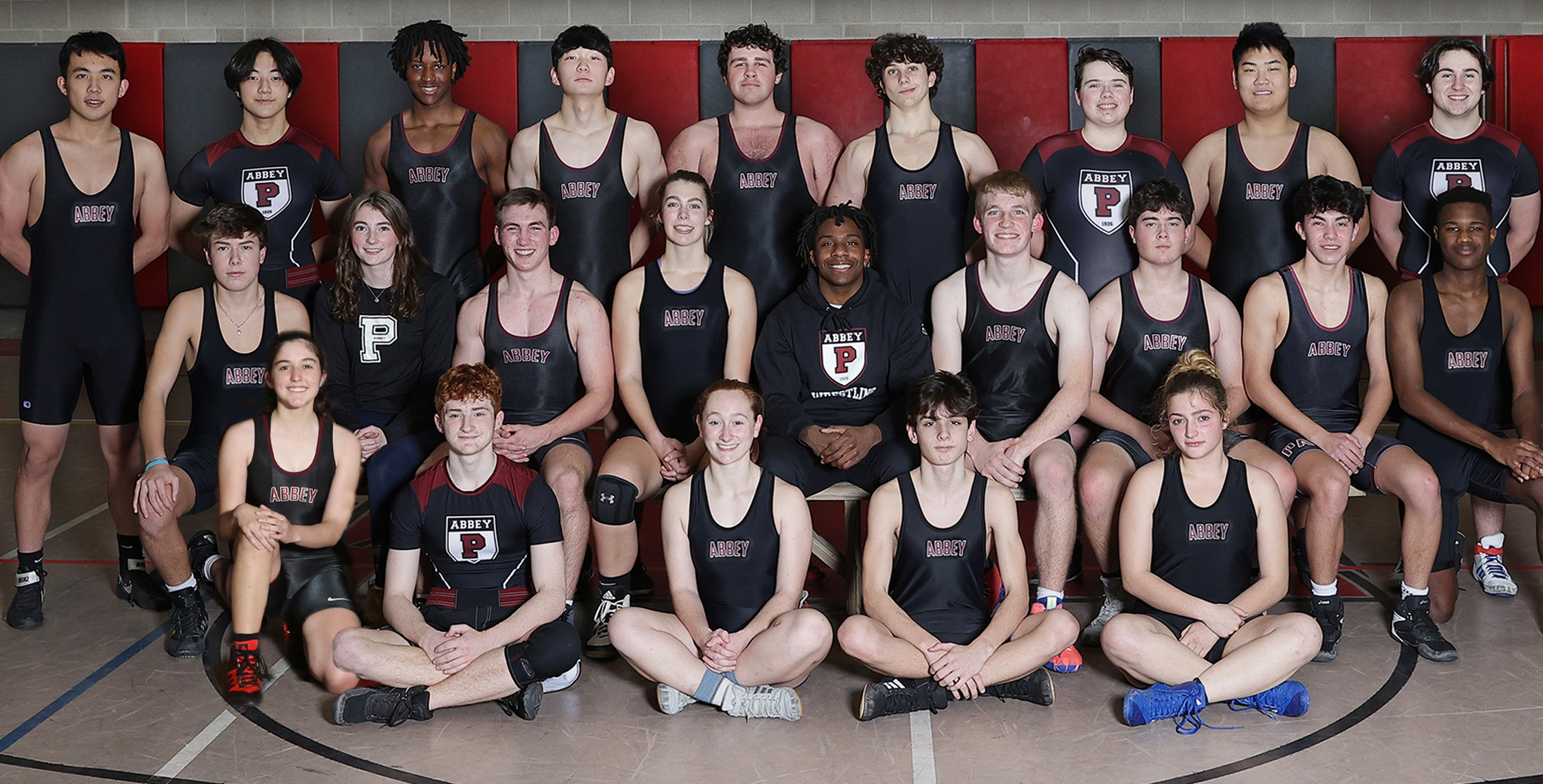 Coach Mike McLarney, Assistant Coach David Wilson
2022-2023 EIL Record: 6-2 , Overall Record: 17-9
Left to right: Bottom Row
Daniella Gasso, Connor Lynn, Mary Adams, Dino De Marzio, Waverly Compagnone.
Middle Row
Luca Donadio, Lilly Coward 
Manager, 

Thomas O'Hara, Merritt Coward

Captian

, Jermaine Anson 

Captian

, Garrett Roskelly 

Captian

, Hunter Leviss, Chris Chow, Aidan Sainte.
 Top Row
Tiger Li, Jinn Park, Dahmaux Koussi-Brou, Sean Oh, Ben Bredin, Atticus Bonny, Harry Lunden, Jason Xing, Will Kelly
2022-2023 Portsmouth Abbey Wrestling Team
We are proud to be a member of the prestigious Eastern Independent League (EIL) member schools: Bancroft School, Beaver Country Day School, Berwick Academy, Concord Academy, Dana Hall School, Landmark School, Lexington Christian Academy, Newton Country Day School, Pingree School, Portsmouth Abbey School and The Winsor School,  The EIL provides student-athletes the opportunity for rigorous competition with schools of similar size and athletic philosophy.
Our wrestling program encourages students to reach their potential in the classroom and on the mats. It fosters a healthy respect for coaches, officials, opponents, and the game itself. Because wrestling demands an individual commitment to hard, physical work, we train our athletes in the game's physical and mental aspects.
WEIGHT BRACKETS
The NEW 2023 NFHS high school wrestling weight classes are (pounds):
106, 113, 120, 126, 132, 138, 144,
150, 157, 165, 175, 190, 215 and 285.
GIRLS National Preps 12 Weight classes
100, 107, 114, 120, 126, 132, 138, 145, 152, 165, 185, 235
If you would like to wrestle, come see us, or search out one of our teammates!"
   Coach Mike McLarney
2022
Tabor Battle of the Bay
Champions
2nd – Merritt Coward – GIRL'S 150
2nd – Garrett Roskelly -165

5th – Tommy O'Hara -150

Mick O'Hara – 120
Atticus Bonny – 157
2023
Eastern Independent League
Champions
Connor Lynn -132
Tommy O' Hara -144
Sean Oh – 157
Garrett Roskelly -165
2nd Dino De Marzio -106
2nd – Atticus Bonny -150
2nd – Dahmaux Kouassi-Brou-175
4th – Daniella Gasso 106
4th-Tiger Li-165
4th-Harry Lunden-215
4th-Jason Xing-285
2023 Girl's National Preps
4th – Daniella Gasso 106 All American
2023
Northern New England Invitational
Champions
1st – Garrett Roskelly -165

2nd – Dino De Marzio -106
2nd – Sean Oh – 157
3rd – Daniella Gasso – 106
3rd – Dahmaux Kouassi-Brou – 175
5th – Connor Lynn – 132
5th – Jinnsung Park – 144
5th – Atticus Bonny – 150
5th – Will Kelly – 175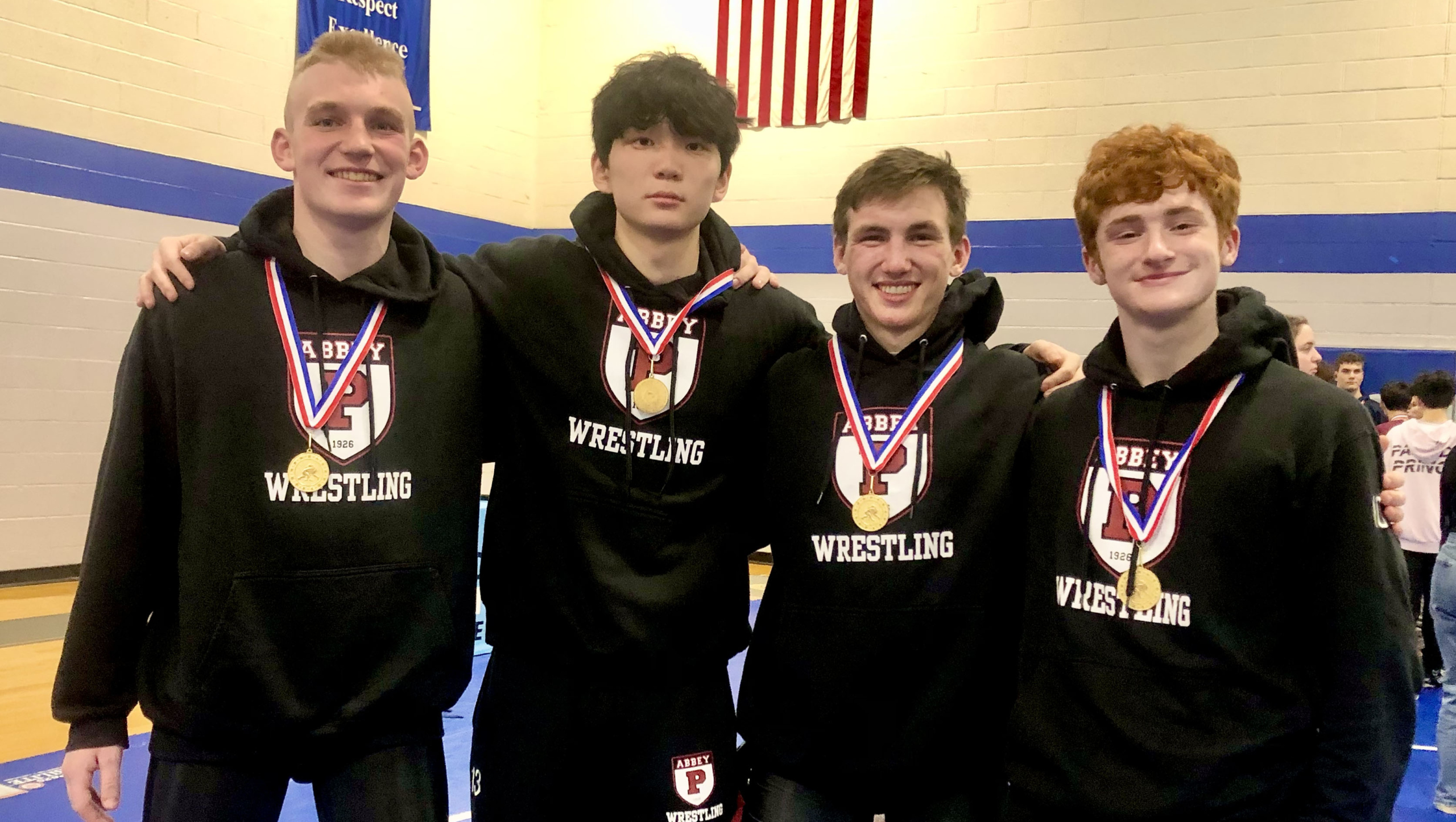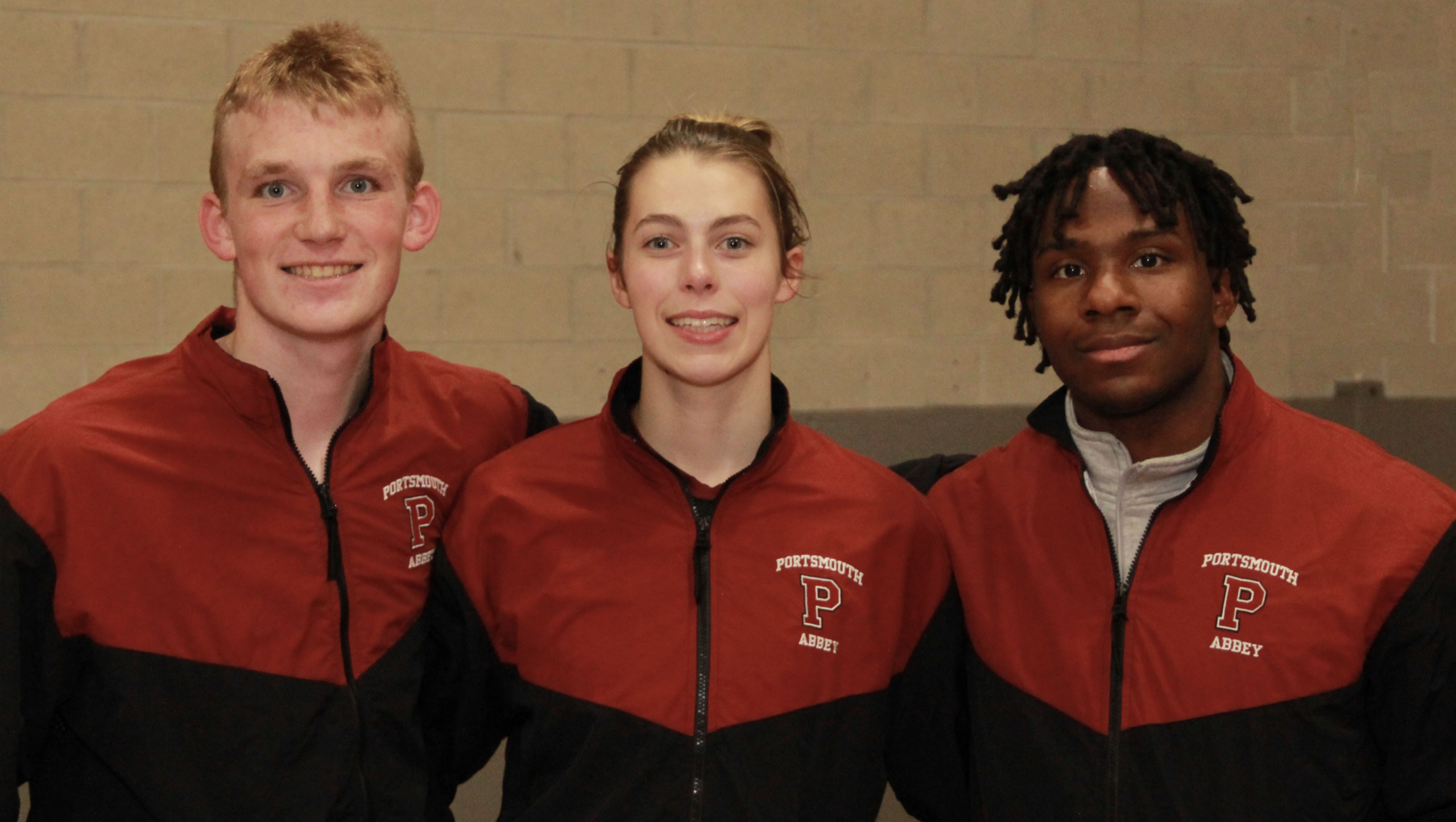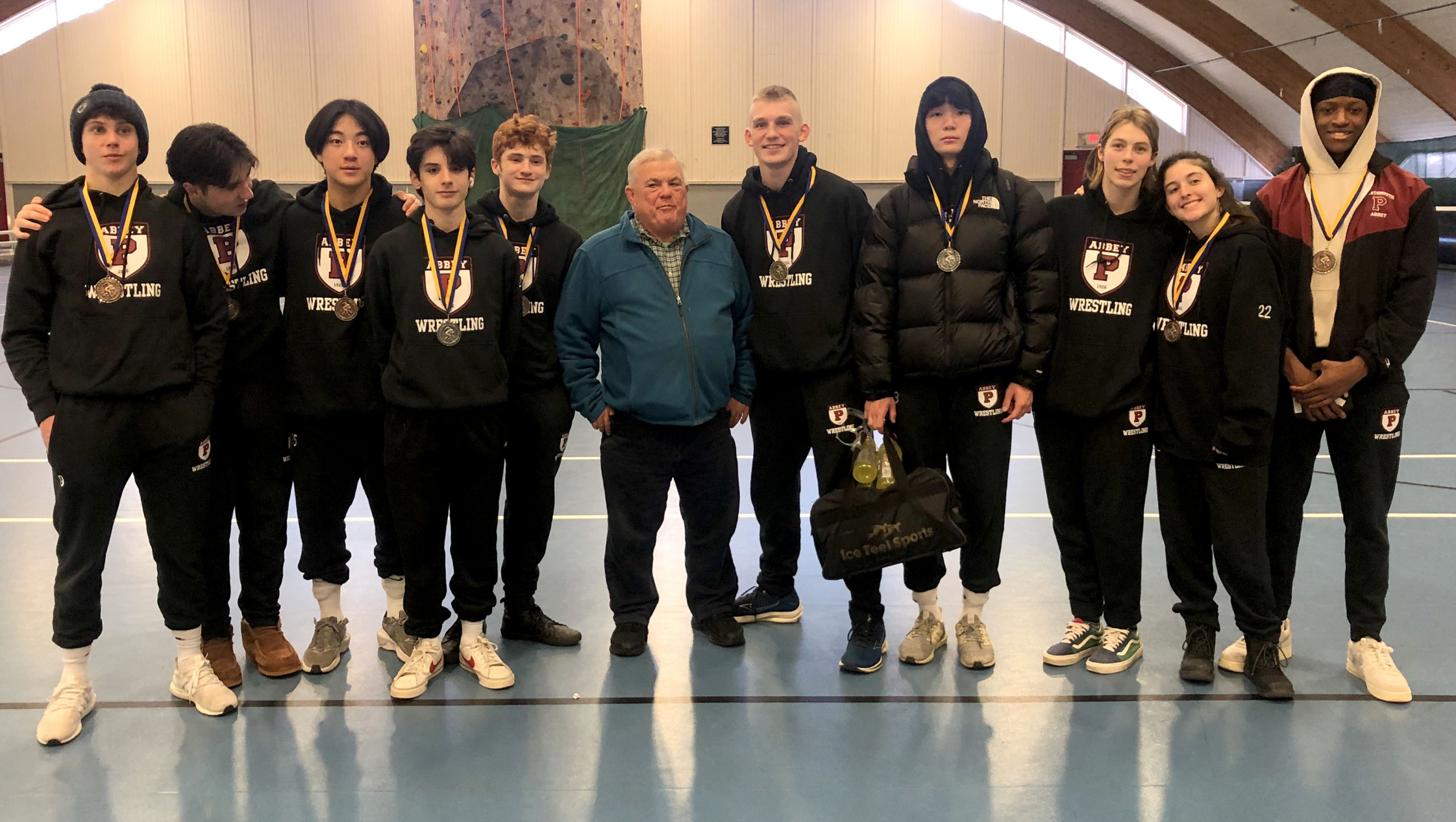 Click on the wrestlers name to see more
2022-2023 Roster
Inspirational & Motivational Wrestling Videos
"Four years of wrestling practice and matches prepared me for my next step at the Air Force Academy. I can not thank Coach Mike and all my team mates for pushing me and elevating my wrestling and self."
Many people have helped shape my life, but none like Coach Mike, he has prepared me for wrestling at Elmira College beyond my dreams. I leave the Abbey with 13 years of wrestling, and over the last 4 years a record of 136 Wins with 100 by Pin.
"Wrestling came into my life while I was just a freshman at the Abbey. I loved it: the adrenaline, tough work, and most of all, the camaraderie. Being a part of Abbey wrestling and serving as a captain of the team was an honor, and my Abbey career would not have been the same without it."
I compete in any sport I play, wrestling was my second sport I was top 17 in the nation, it taught me to dig deep and be the best I can, I love lacrosse and will continue to bring it all to the field!
Abbey Wrestling gave me so much…It taught me everything about self-control and discipline, patience and sportsmanship.  While it is technically an individual sport, I was never on the mat alone.
A four-year star that played a major role in Portsmouth Abbey winning its second consecutive EIL championship. Henery was ranked in the top 16 in the prep nationals with 3 consecutive All-Conference selections.
With the right blend of energy and determination, you can take your wrestling skills to places you never though possible.
I now play lacrosse at Salve Regina University, as a Middle, I attack the field with the Wrestling Mind set that Coach Mike taught me.
The experience that I had at the Abbey were amazing. I came with minimum skills, but felt nothing like it. Thank you for the fun practices guys!"
I wrestled over my weight and made the best of every match and ended up qualifying for Nationals.
The Eastern Independent League (EIL) is composed of eleven New England preparatory