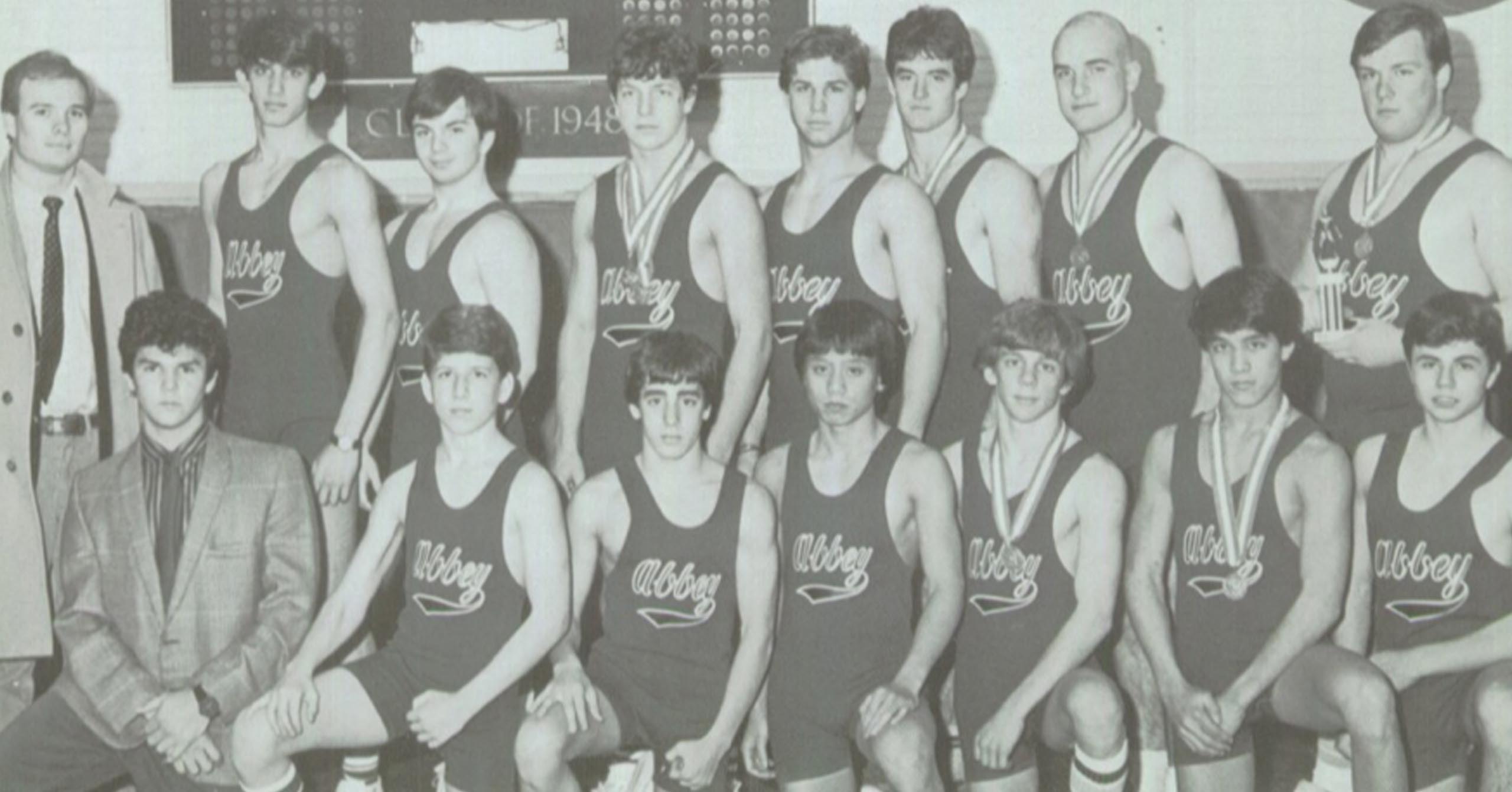 1985 Portsmouth Abbey Wrestling Team
Front (L-R) Regalado, Calhoun, Calderone, Mendoza, Nadolink,
Lopez-Linus, Gualtieri. Back: Coach Stoddart, Sahady, Furtado, Malkovich,
Batista, Canning, Fitzgerald, Carter.
This year's wrestling team was one that improved greatly over last year's. It improved under the guidance of Coach Stoddart and co-captains Canning and Fitzgerald. The improvement also came in the wrestlers' attitude towards their practices and matches.
If the team could not win with their finesse wrestlers, like Brendan Canning, Cornelius Arnow, and Eric Nadolink, it turned to its brut strength wrestlers, like Bob Fitzgerald, Laureano Batista, Kent Malkovich and of course George "The Animal" Carter. The strength and experience of the team were found in its upper weights (152 and up). As with any team, the lower weights were somewhat inexperienced, but their courage made up for it, as was seen in the cases o Paul Sahady, Mike Mendoza, and Chris "The Turtle" Furtado.
The team did not go unnoticed by other Teams this year. Often, opponents had to be dragged off the mat. Wrestlers like Kent Malkovich, Bob Fitzgerald, Brendan Canning, and Laureano Batista can testify to this fact. They usually did not have to wrestle the full six minutes because their opponents had already been pinned. The team won a stunning victory over St. Georges and upset a strong Pomfret team. Other victims were BBN, St. Marks, and a close loss to SENE champions Moses Brown! Many medals were won in the SENE and Graves Kelsey tournaments as well.
The outlook for next year's team is somewhat promising. Five wrestlers are leaving, but under the guidance of Coach Stoddart and co-captains elect Chris Furtado and Mike Mendoza the team can not
lose. Returning wrestlers Sahady (brothers), Nadolink, Calderone, Calhoun, and Paddy South (with 100 more pounds) will all help to carry the team.