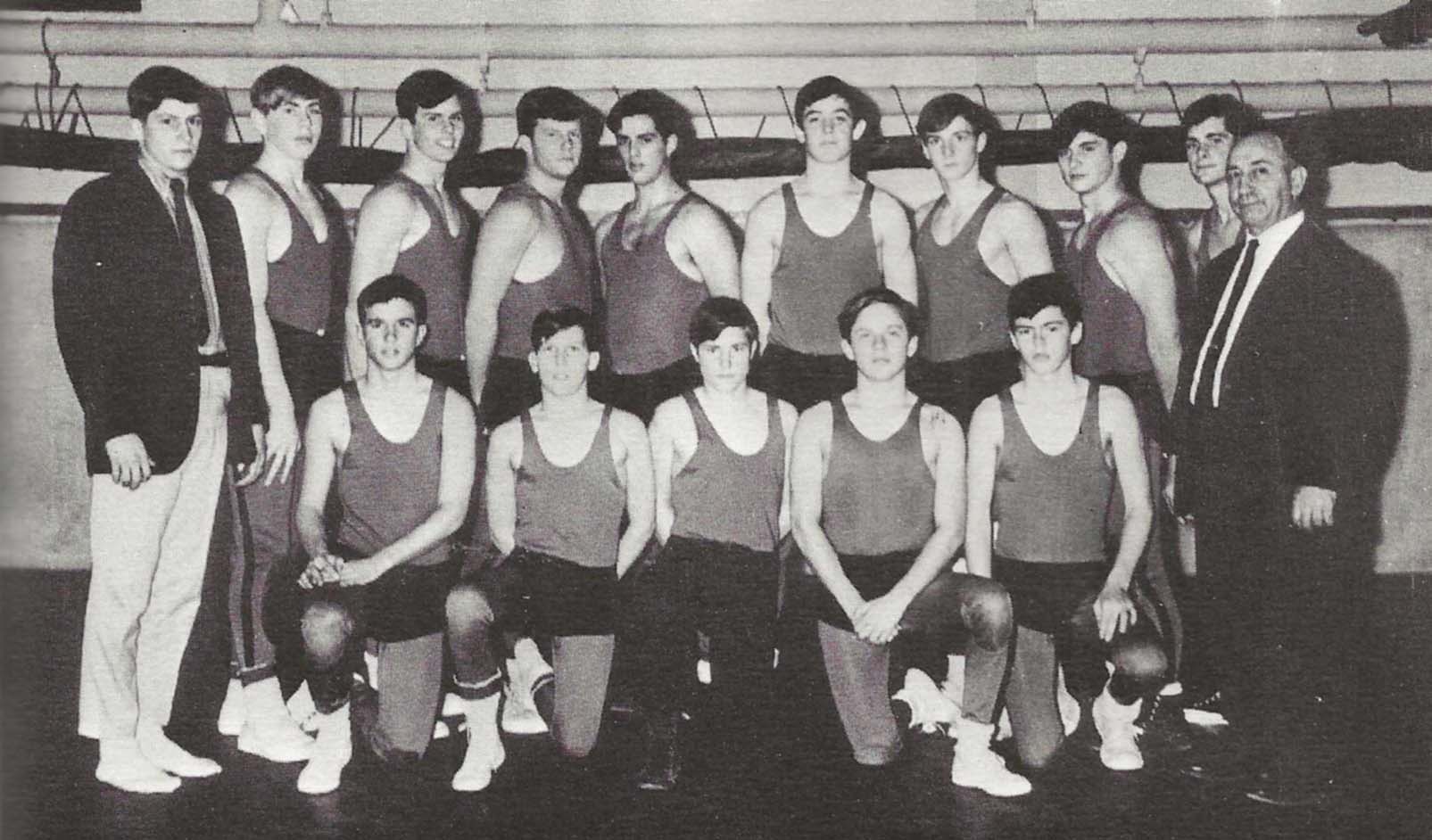 1966 Portsmouth Priory Wrestling Team
Kneeling: Silva, Rives, Bowes, Ellliott, Kellog
Standing: Mariani, Greene, McShane, Burke, Wills, Fawley, Sands, Minor, Burke
After a season of seven matches the Priory wrestlers brought to a close a successful 5 win- 2 loss season. Although there were a number of nearly undefeated boys, Bill Rives was the only member of the team to have a 6-0 record. The only close match of the season as far as score goes was the first one against Cranston West (B) team. The Priory grapplers pulled the match out in the final bout to give the team a 21-17 victory. A week later thee am traveled to Pomfret, where it soundly defeated the school's JV 31-11. Because of this easy victory, the team will probably move up to take on Pomfret's varsity. On the twenty-sixth of January the St. Andrew's squad came to Priory for practice match. This turned into a rout for Priory and with five pins the team registered
a 28-3 victory.
Following the St. Andrew's bout, the team wrestled Cranston East J.V. which recently won the Rhode Island State J.V. tournament. The invaders were defeated 33-15. Tabor the following week the tables were switched and the only one to win was Billy Rives. The rest of the team lost, and the result was a 5-33 defeat. However, at Moses Brown the team staged a comeback and defeated their opponents 53-2. With a 5-l record of rthe season the team was looking forward to beating St. Georges. When the day finally came the invaders overpowered our team 31-15. The Score however, does not designate the real closeness of the match
Much of this year's team should be returning next year under Tom Minor's leadership and Bill Rives's inexhaustible spirit. Both Juan Silva and Chris Kellog will be returning next year as seniors. Also Bruce McShane, Tim Sands, and Bill Greene will be returning. These three Fourth Formers are expected to be serious threats next year. The team would as a whole like to thank Coach Lifrack for his invaluable help and the army of daily spectators, who consistently boosted the team's morale and confidence.